Sydney rental vacancy rate is a whopping 3.3% this is the highest figure we have seen in our beloved rat race city, check out our blog page or our video tutorials to see how Instarent can help you save tens of thousands on your investment property.
Domain research analyst, Eliza Owen, has published a report showing that Sydney's rental vacancy rate is rising at the same time as rents are falling:
The Sydney rental vacancy rate has been trending higher. In January 2019, the rate was 2.8 per cent, up from 1.8 per cent in the previous year.

The January result is down from the previous month (3.5 per cent), because December usually sees a strong seasonal increase in the number of rental listings.
This overall upward trend is good news for tenants, because rising vacancy rates generally indicate that rents will not grow as quickly, and they may even drop.
Higher vacancy rates generally mean the number of vacant rentals is going up. Domain estimates that the total vacancies across Sydney in January 2019 were approximately 17,500. This is 6500 more than were available for rent in January 2018…
The graph shows an inverse relationship between rental vacancies and rent inflation. As the supply of vacant rentals increases, growth in the dollar value of rent declines…

This has already been seen in the latest Domain Rental Report, where Sydney median asking rents for houses fell from $550 per week to $540 per week in the year to December…

SQM's rival rental vacancies index shows an even sharper rise in Sydney's vacancy rate: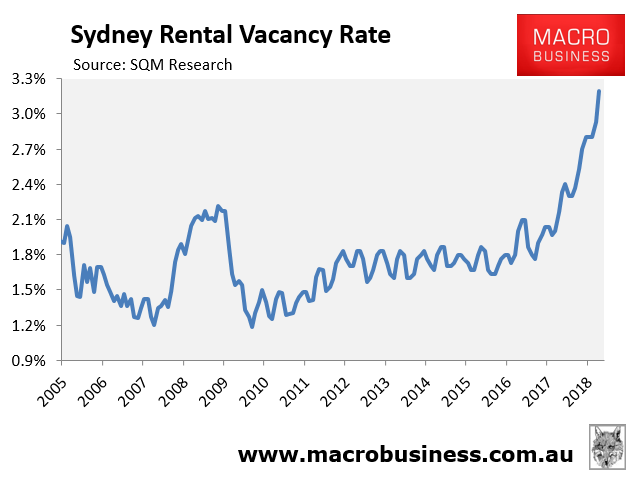 Whereas CoreLogic's Quarterly Rental Report showed sharper falls in Sydney rents: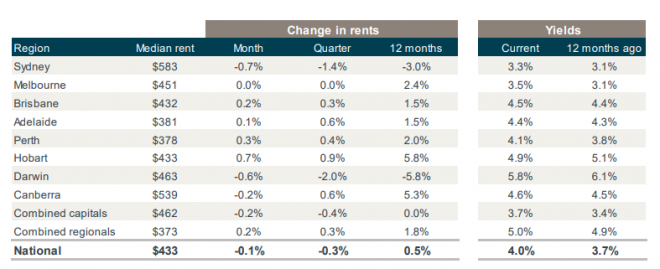 When combined with Sydney's plummeting dwelling values: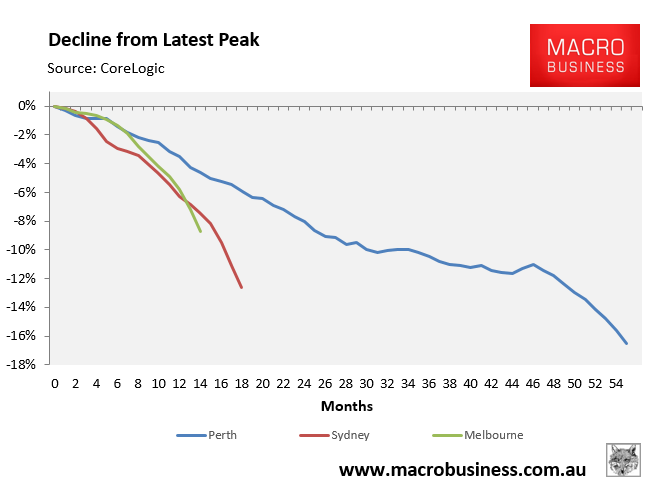 This is more dire news for Sydney's army of negatively geared landlords, who are facing not only crashing asset values and rising mortgage rates, but also declining income returns as well.